Rubber antioxidant IPPD 4010
Brand :compadre
Product origin :hebei, china
Delivery time :10days
Supply capacity :500T per month
An antioxidant used for rubber products withhigh efficiency, low psison and low solvent-extraction amunt, also used as stabilizer in synthetic rubber, which is widely applied in many kinds of rubber products.

Rubber antioxidant IPPD 4010
Classification: Chemical Auxiliary Agent
CAS No.: 101-72-4
Other Names: IPPD
MF: C16H13N
EINECS No.: 201-983-0
Purity: 95%
Type: Antioxidant Agent
Usage: Rubber Auxiliary Agents
Model Number: 4010NA IPPD
Apperance: Dark brown, dark violet pellet
Certificate: COA, MSDS, TDS
Sample: free
Packaging: 25 Kgs/kraft bag
Molecular weight: 226.4
Specification
Chemical Name: N-(1,3-dimethyl-buty)-N'-phenyl-P-Phenylenediamine
Molecular Formula: C18H24N2
Appearance: Dark purple granules
Heating Loss %≤: 0.5
Ash Content %≤: 0.3
Assay %≥: 95
Freezing Point C≥: 44
Package
25kg N.W./bag, in plastic fabric laminated kraft bags lined with plastic bags.
Storage
Do not store the product in bulk above 50/122,F for prolonged perod of time, to avoid oxidation and loss of ativity. Use a nitrogen blanket when bulk storage time at maximum temperature will be greater than one month. In sealed drums the product has excellent storage stability at storage temperatures below 35/95°.
Storage area should be dry and protected from excessive heat and excessive exposure to air, to prevent degradation. Keep partially used containers closed. Shelf life is dependant of temperature of storage and extent of exposure to air.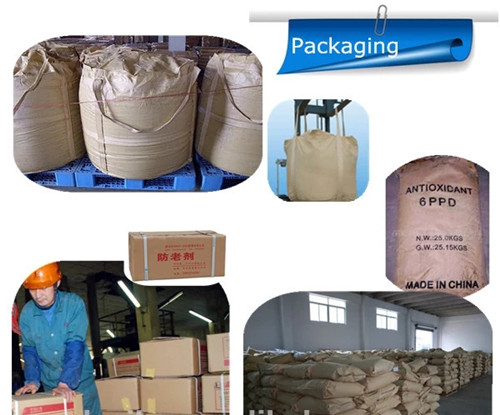 Get the latest price? We'll respond as soon as possible(within 12 hours)